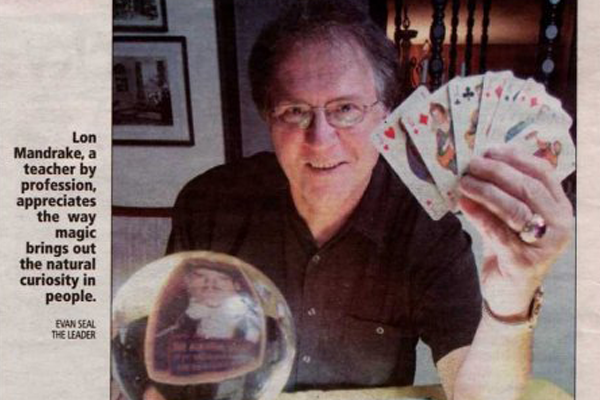 TESTIMONIALS
Mandrake has a very unique performance with his "magic of the mind"! This is an ancient form of magic which has astonished people throughout the ages. His performances can be tailored to any special event! Audiences especially enjoy the humour and participation in the performance. You can see this by the comments from the wide range of clients. As well as corporate events and large conferences, he also does many private functions.
"Lon was amazing! Nothing but good things to say about him. He dazzled our crowd so much and people loved his personality as he did some personal shows with crowds of no more than 10 and did huge shows with crowds over 100 people. He was great!!!Jeff Degrano, Harry Potter Event at North Vancouver's Chapters Books
"I have heard nothing but excellent reports of these shows from our visitors." Dr. Sid Katz, Executive Director of Science World, Vancouver.
"thank you for your fascinating and stimulating presentation. Your combination of information and entertainment really helped to get our corporate retreat off on the right foot." Lyle Russell, Executive Director, B. C. & Yukon Region, Industry, Science & Technology Canada
"Your show was terrific and a big hit even with an audience of theatre people who are usually the worst critics." Bob Eberle, Conference Chair, The Canadian Institute for Theatre Technology.
"Seldom have I seen our building as energized and exciting as it was this weekend. Thankyou once again for your warmth, your entertainment and your skill. Brian Anderson, Head of Productions, Science World.
"I was greatly entertained and baffled by your skills and watching the audience's reaction, one didn't have to be a mind reader to know that our visitors were thoroughly enjoying the show as well." Rise Tucker, Public Programs, New York Hall of Science.
"Wow! what an exciting, uplifting evening! You are remarkable! Your presentation was a spectacular balance of humour, wisdom, science and entertainment." Canadian National participants of the Loon Lake Science Teachers Retreat.
"We had great positive remarks, as always, about your performance. Thank you once again."Patti Leigh, Canada Wide Science Fair, held at the University of British Columbia.
"It was a genuine pleasure for the Mayor and Council, our volunteers and staff to have you as part of our program. Your presentation was indeed entertaining, intriguing and truly amazing." Gill Mervyn, Municipal Clerk for Mayor Jackson
"I would like to thank you personally for making this year's NDSS Dry Grad event a wonderful evening for all the students.
As always, your magic and personality readings were a big hit with the kids." Tom Dent, Entertainment Coordinator North Delta Dry Grad
"Thankyou so much for being part of the Childrun Event. You are amazing and talented and the day would not have been the same without your enthusiasm and magic.
We surpassed our goal and the Childrun raised almost $600,000 dollars for children with cancer!" Miriam Lewis